Create Free Custom Posters & Flyers in Minutes
DesignCap helps you turn creativity into stunning posters and flyers with great ease.
Make a Free Poster/Flyer
Why Choose DesignCap?
Hundreds of Templates
Get inspiration from hundreds of professionally designed templates and create your own posters and flyers for various occasions and events.
Thousands of Resources
Enhance your posters and flyers with a wide variety of stock photos, clipart images, shapes, fonts, and backgrounds.
Fully Customizable
Lots of powerful editing tools let you customize your own posters and flyers like a pro with only a few mouse clicks.
Free to Use
DesignCap is free and simple to use. No download or registration is required. It saves time, energy and money.
Create Stunning Posters/Flyers in 3 Easy Steps
Choose Templates
Choose from hundreds of poster and flyer templates to start your design journey. All these poster and flyer designs covering various themes, such as advertising, sale, wedding, sports, holiday and event, will give you some insights and inspiration. No matter the purpose of your posters or flyers, DesignCap will meet all kinds of your needs.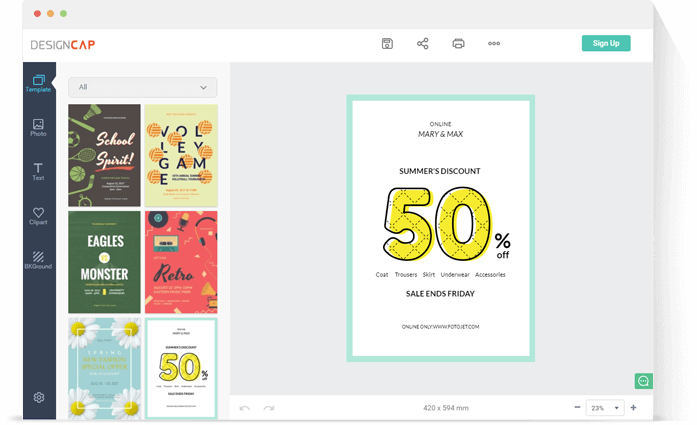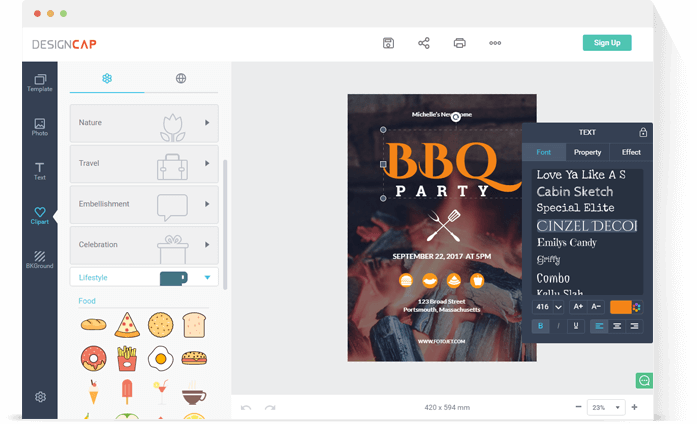 Add Elements
To further enhance your posters and flyers, you can upload your own photos or search through thousands of stock images to use. You can also choose from a large library of delicate elements for touch-ups including clipart images, shapes, fonts and more.
Customize at Will
DesignCap offers many professional editing tools for customizing your posters and flyers the way you want, such as adjusting size, position, rotation, changing text font, color, effect, alignment, applying specific background and managing layers. Nothing can stop you from unleashing your creativity to create amazing posters and flyers that will impress your audience.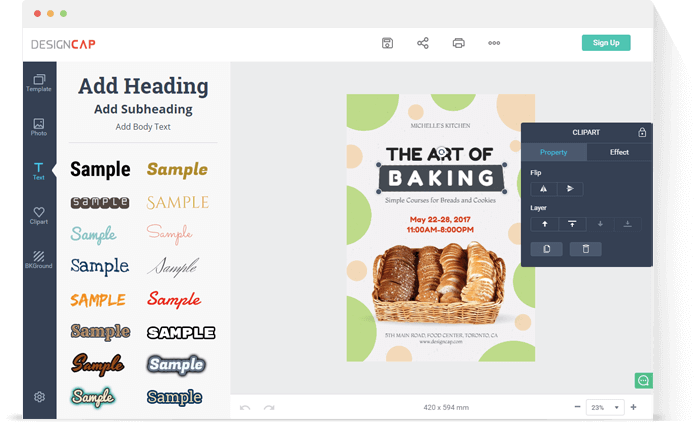 Create Outstanding Posters & Flyers with DesignCap Now
Try it for free, no download or registration required.
Make a Free Poster/Flyer