Who Are We?
PearlMountain has focused on the research and development of graphic design software since 2006. We aim to make professional photo editing and graphic design capability accessible to everyone. Our most popular product, FotoJet, has millions of users spreading over 100 countries and areas.
Why Did We Develop DesignCap?
Since the launch of FotoJet, we have received great support and trust from users worldwide, which drove us to think deeper - what else can we bring to our users, to help them accomplish their creative goals? With the idea of making graphic design simple but not ordinary, and providing the best solution to meet users' design requirements, our new program was starting to take shape.
With nearly ten years of experience in graphic design and software development, we eventually launched our new product DesignCap, an online graphic design software, to help everyone create professional designs such as infographics, flyers, and social media graphics.
An excellent design will not only help speak your message out, but will also draw more attention and get great results as well. However, creating a striking graphic design is not easy and it often requires a great deal of time, talent and money. But the good news is that DesignCap is here to give you a hand, since it is engineered to simplify the cumbersome process of graphic design and reduce cost dramatically.
DesignCap has gathered together the experience and knowledge of our professional design team, and presents access to a vast built-in database, offering thousands of high quality templates and vast collection of illustrations, shapes, stylish fonts for selection. Even if you are a design novice, you can create professional designs without difficulty.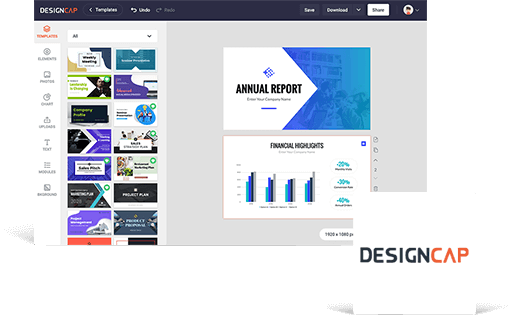 Company Material
Logos, screenshots and other materials for editorial publishing can be found and downloaded in our press & media center.