Summary: Bothered with how to celebrate my cutest Cat' birthday? Why not try to make a customized cat birthday card, and there are other 6 funny ideas to make them a happy birthday, come and check it out!
Image board: An example of Cat Birthday Card
Anyone who owns a cat knows that the little fur is more than just a pet. Noting beats the joy your cat brings to your life. She/ he is a friend, is your family. They deserve to get love. Pet parents also should show the love and attention to the real baby.
They give owners the gift of better psychological health. When it comes to kitty's birthday and celebration, it's time for parents to hold a celebration and show some appreciation.
If your cat' s birthday is upcoming and you're considering some funny ways to celebrate, why not to send her/him a birthday card and hold a pawty with your cutest furry family member.
There are some tips for how to celebrate Happy Birthday Cat and how to make a birthday card to give the best wish to them!
After all, it's my birthday, you need to send me a cute birthday card first!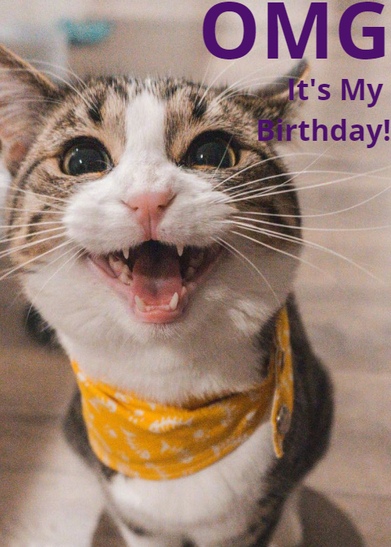 Image board: An example of Cat Birthday Card
DesignCap offers thousands of templates, icons and photo materials to help you out.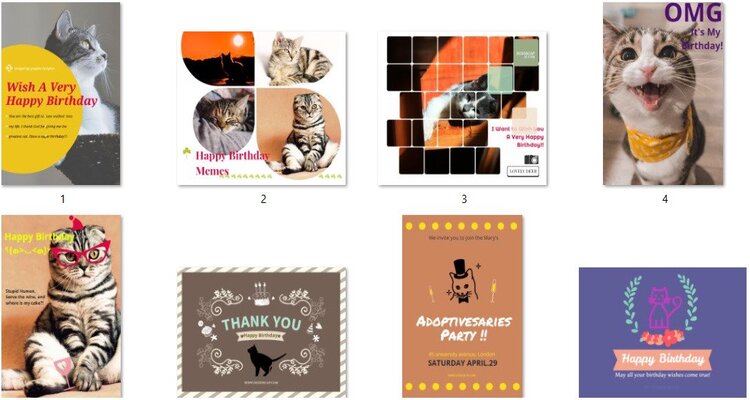 Image board:Templates
Step 1Before design your cat's birthday card, Choose the Style And Specs First. Do you want a cute one or a humorous one? Which specs do you want: portrait screen or landscape? How many sizes you wanna be?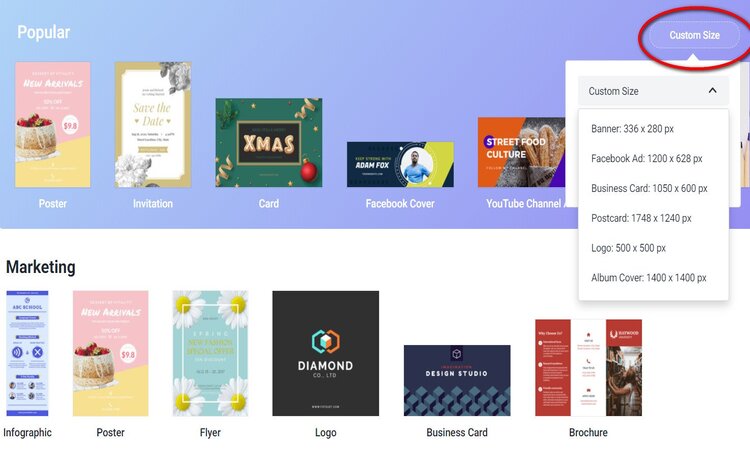 Image board: Choose the Style And Specs First.
Step 2Create a New Design.
You can design by yourself or select one template by filters to go for help.
If you wanna start with a design by yourself, you can upload the local pictures of your cat as the background. You can upload up to 15 pics in your stock, if you want to delete one of them, just tab "

".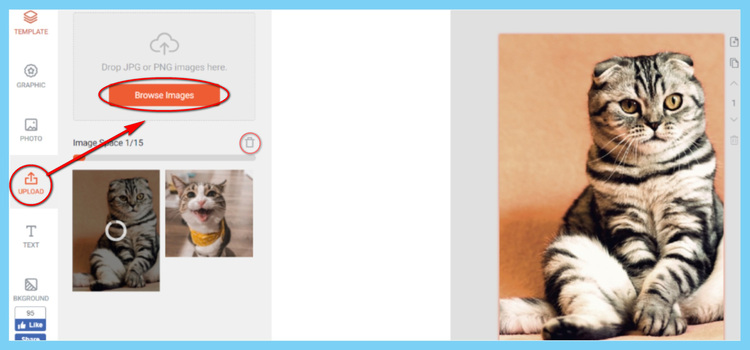 Image board: Upload your local pictures.
If you wanna edit with a template, you can search for different kinds of templates by filters. Moreover, go to the feature of "Photo" to find funny pics replacing the templates' one.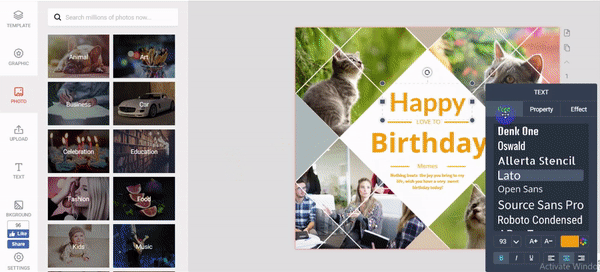 Image board: Find a template and edit the pics.
Step 3Add and Design The Text
It's very easy for you to change fonts, size, and colors. Besides you're also allowed to modify the opacity and property.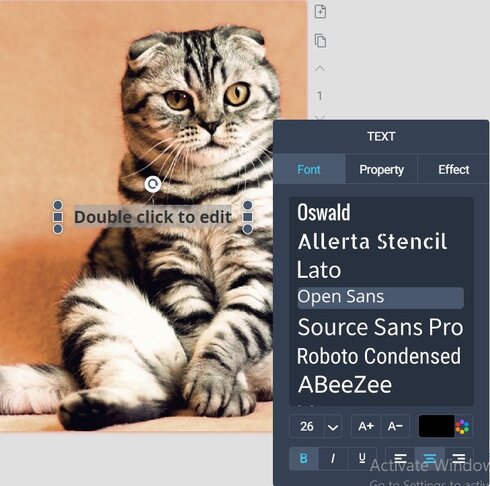 Image board: Add the text.
Step 4Add Icons Makes Card More Lovely
Go to the feature of "Graphic" to add different style of shapes and icons. You can change the color, size and even opacity to achieve the demands.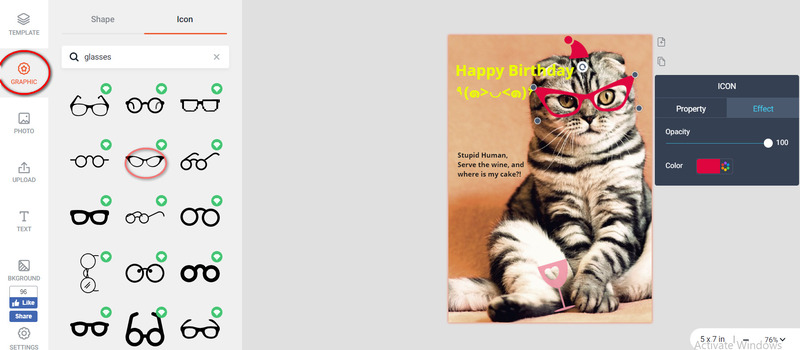 Image board: Add icons.
Step 5Change the Background Colors (If Necessary)
If you wanna the background looks more colorful, you can try the gradient ramp. After done the card page, you can also duplicate it or add a new page to design another one.
Image board: Change the background.
Step 6Save And Export
Check it again, make sure everything is perfect, then save your designs in "My Design", and download or print it.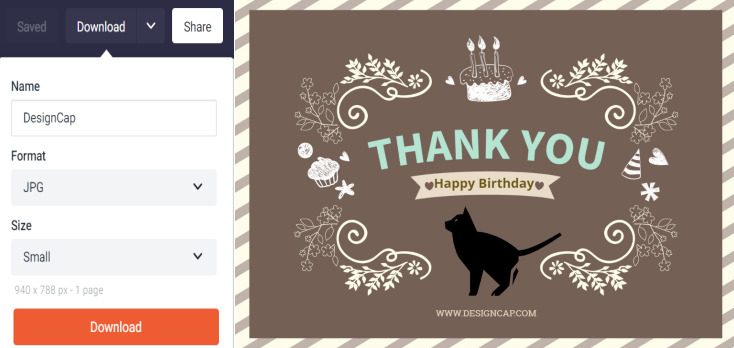 Image board: Save the design and export your birthday card
1.Happy Birthday Cat Pawty
Hold a party for your cat. The pawty is not only for cats, but also for yours, you, your families and your cat. The company is the longest confession of love. They deserve a happy birthday.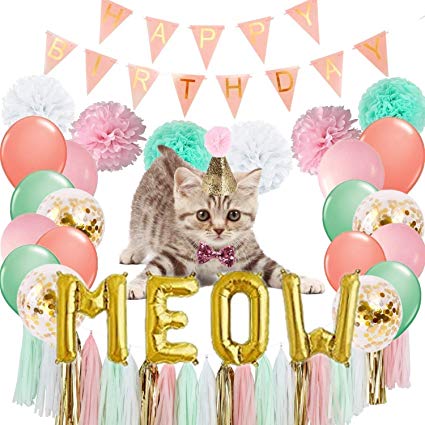 Image board: Hold a cat party.
2.Make a Lovely Cat Birthday Video
Make a cat birthday video with FlexClip video editor to record your cozy memory. It's merciless to say but cats have a much shorter life expectancy than us, so memory is a good way to remember and miss them.
Also Read: How to Make A Birthday Wish Video >
3. Make a Happy Birthday Memes
Memes is a hilarious alternative to the usual birthday sending card. Make a happy birthday memes and share it on social media to thank for your cat's company and the happiness meow brings to you.
Image board: Make a happy-birthday-memes
Use DesignCap to design your hilarious memes bringing fun to cats and family.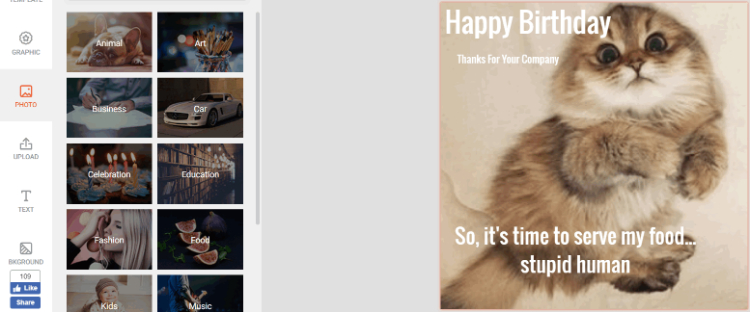 Image board: Make a happy birthday memes by DesignCap
4.Prepare a Present and Party Cap For Your Cat
With thousands of cat toys and food out here, it's not too hard to find a gift for your sweet. They will feel your love through a delicate present.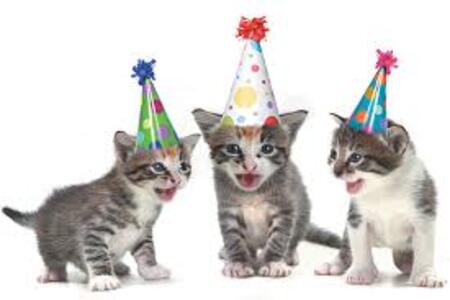 Image board: Make a party Cap for your cat.
5.Treat Your Cat to Some Catnip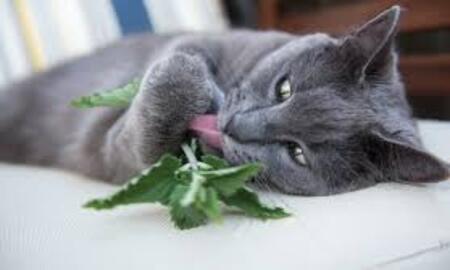 Image board: Catnip.
Catnip is to make cats enjoy some happy hour, you can give catnip through toys, fresh leaves and even catnip bubbles. But if your cat is never treated this before, try to sprinkle a few dry leaves on the toy, and see how it reacts first.
6.Go For a Walk
Many cats never ventured outside before, it's time and good excuse to try something new, but make sure you don't forget the leash.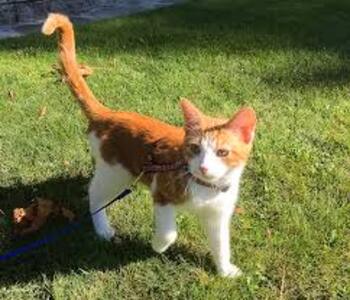 Image board: Go outside for fun.
7.Donate to a Charity in Her/Him Name
Rather than a normal present, why not doing something special and meaningful, considering donating a charity with your cat's name. What I'm talking about is not only money but also you can donate your time and energy to help other cats or animals locally. Contact the local shelter to see if they need a volunteer, too.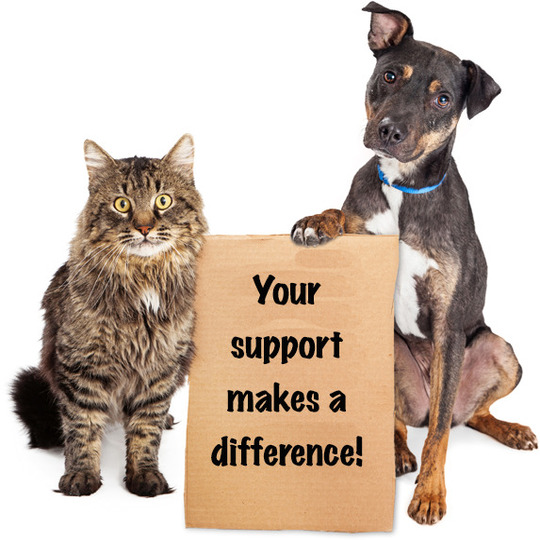 Image board: Donation.
Bottom Line
Pets are the best gift to have walked into our life. We should show our love and appreciations towards them, too. Why not trying it now?! I wish the above ideas can help you!