Summary: Can N95 mask protect you from novel coronavirus infection? Today, we find the answer with solid science proofs. We've rounded up authority papers in related, so that you can read all aspects about N95 mask from a professional perspective.
"A week ago we were instructed to take off our masks at work." - Quotes from a New York nurse.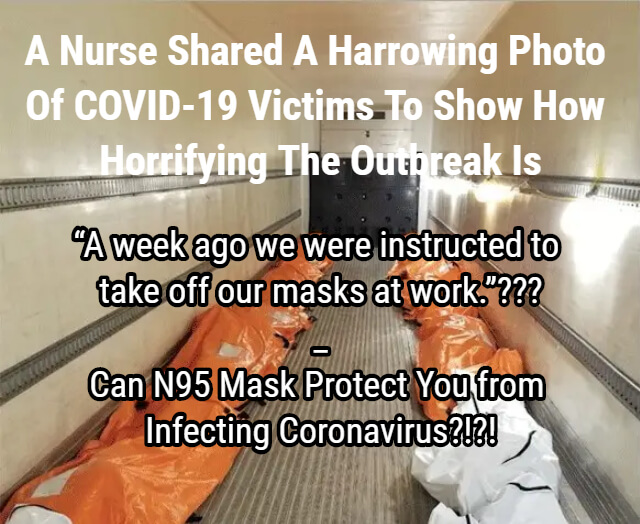 Image: Can N95 mask protect you from infecting COVID-19?
The hot debate about whether wearing an N95 mask can protect you from coronavirus infection or not has continued for months. When some authorities instruct people not to wear them, continuous positive coronavirus tests prove that they are very wrong this time. For each individual person, it's your duty to know mask tips & protection tips and share them. Only when your neighbors and country leaders know it exactly and united, can you win the battle of novel coronavirus. Or, things can get worse!
This very article collects all essential tips for N95 mask, along with an easy & free way to visualize all N95 knowledge to make an N95 infographic map.
Need a logo for mask or COVID-19 infographic? Give a try on DesignEvo's online medical & pharmaceutical logo maker to work out a caring logo freely.
Part One - Can N95 Mask Protect You from Infecting Coronavirus?
It depends. - It depends on your health condition and how you wear an N95 mask. And answer is YES, only when you obey all N95 guidelines and everyday preventive actions.
What's The Point/Highlight of N95 Mask Protection?
Tips

N95 mask is NO DISINFECTION PRODUCT.
If you fail to wear an N95 respirator by the book, no way for N95 to help reduce coronavirus transmission.
If you are infected by other means, wearing an N95 mask won't save you from being infected.
For example, N95 won't be helpful for your protection when you've exposed to infectious areas (consciously or unknowingly) but still touch mouth, nose or eyes with unwashed hands.
Part Two - All Tips and Truths about N95 Respirator Masks You Shouldn't Miss
To know about N95, you might want to do a little study about NIOSH, which is a government organization that approves mask production in the USA:
The National Institute for Occupational Safety and Health (NIOSH) is the U.S. Government agency responsible for the certification and approval of respiratory protective devices for occupational use. (Source from: What is a surgical N95 respirator?)
2.1.What Is N95 Respirator?
What is N95 respirator exactly? We've found two authoritative answers:
Ans:

N95 respirator is a protective device that's designed to fit well on human face and that blocks at 95% of small particles (0.3 microns) (for inhales and exhales). - from FDA's explanation.
N95-rated filtering facepiece respirators have a filtration efficiency of at least 95% against non-oily particles when tested using the NIOSH criteria. - Quote from 3M release.
If you still think it's hard to understand, a simpler version of the explanation is: N95 respirator is a protective device that keeps most particles out.
2.2.How Does N95 Mask Function In a Coronavirus-Polluted Environment?
N95 mask creates a physical barrier, separate your mouth & nose from the potential pathogen, airborne virus and bacteria that might come from others' sneezes and coughs. N95 mask filters non-oily airborne particles and liquid contaminating the face.
As long as your mouth & nose are well protected from contamination, you've gotten your most vulnerable parts safe. That's how N95 mask works.
2.3.Two Types for N95 Masks - Standard Version N95 & Surgical Version N95.
The main difference is that surgical N95 is cleared by FDA. Surgical N95 meets ASTM test method F1862. Simply speaking, a surgical N95 mask is required to filter out way more particles than a standard N95 respirator.
Surgical N95 is also called medical respirator, healthcare respirator, or surgical respirator. (Quoted from 3M Surgical N95 release)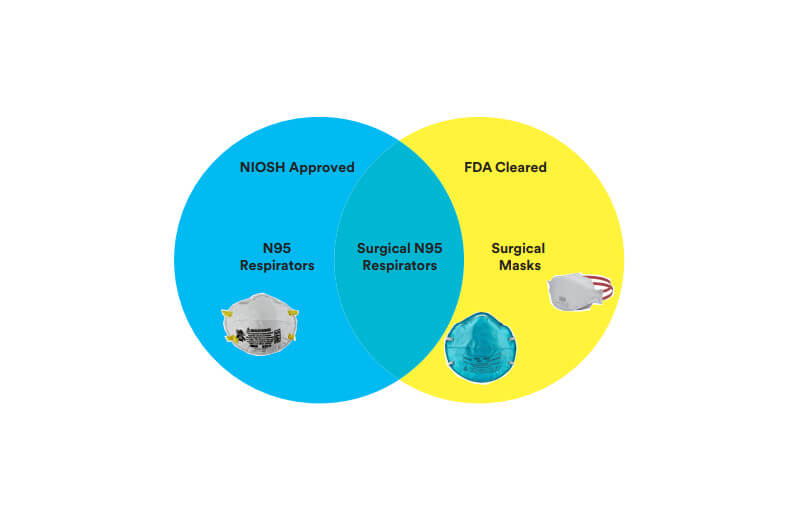 Image: Standard N95 VS surgical N95.
2.4.Should I Buy N95 Respirators with an Exhalation Valve on The Front, or The Ones without?
N95 mask without an exhalation valve is for all groups of people. While, there is some minor restrictions and notes if you want to buy N95 with valve:
Tips

If you are healthy and about to wear an N95 in a place when there is no requirement for sterile, then you can buy both N95 respirators that are with a valve or without a valve.
Otherwise, buy an N95 respirator without valve, especially for sick people with coronavirus.
2.5.What's N95 Called in Different Countries around The World?
When N95 masks are in shortage, you can turn to N95 alternatives with the same protection for purchase. Here is the "name" list for N95 mask in different countries (Sourced from 3M share):
Norm:

N95 (United States NIOSH-42CFR84)
FFP2 (Europe EN 149-2001)
KN95 (China GB2626-2006)
P2 (Australia/New Zealand AS/NZA 1716:2012)
Korea 1st class (Korea KMOEL - 2017-64)
DS (Japan JMHLW-Notification 214, 2018)
Notes on How to Read N95 Name List: N95 is the mask name in United States areas, and NIOSH-42CFR84 shows which rule/standard it follows.
With the list in hand, you can easily place an order and buy N95 masks oversea.
Part Three - How to Visualize N95 Tips? Make An Infographic or Report!
Content posts are context-rich, they are hard to read line-by-line, and only a few people have enough patience to read them through. If you want to share N95 knowledge with better engagement, then you must use an infographic to list N95 tips.
DesignCap.com is a free infographic designer online that you can fast search for several coronavirus infographics and used them directly:
Steps:

Step One.Search for a template with a free account. Or, you can start at its template page.
Step Two.Customize your template. Here, you can add more pages, information, tables, charts, or other visual aids into your design.
Step Three.Download your infographic design for free.