Summary: Want to become better at infographic design? You've come to the right place. We're going to share some proven infographic design tips with specific templates as examples to help you make your perfect infographic design.
Designing your infographic from scratch is always a huge task. But it doesn't need to be when you master some killer infographic design tips and craft your infographic with a professionally designed template.
Starting designing an infographic with a template is the easiest way to create an infographic that looks professional. So here in this post, we'll share some practical infographic design tips and take some beautifully designed infographic templates as examples.
You May Also Want to Try:
Best Practices on Infographic Design with Examples
At DesignCap, there are tons of free infographic templates that can help get you started. You can find many free infographic templates that are professionally designed and easily customizable.
Now I want to share some killer infographic design tips with my favorite infographic templates as examples.
Practical Infographic Design Tips:
Before diving into your design, pick the best infographic layout for your information or data. There are lots of beautifully designed and free infographic templates in DesignCap.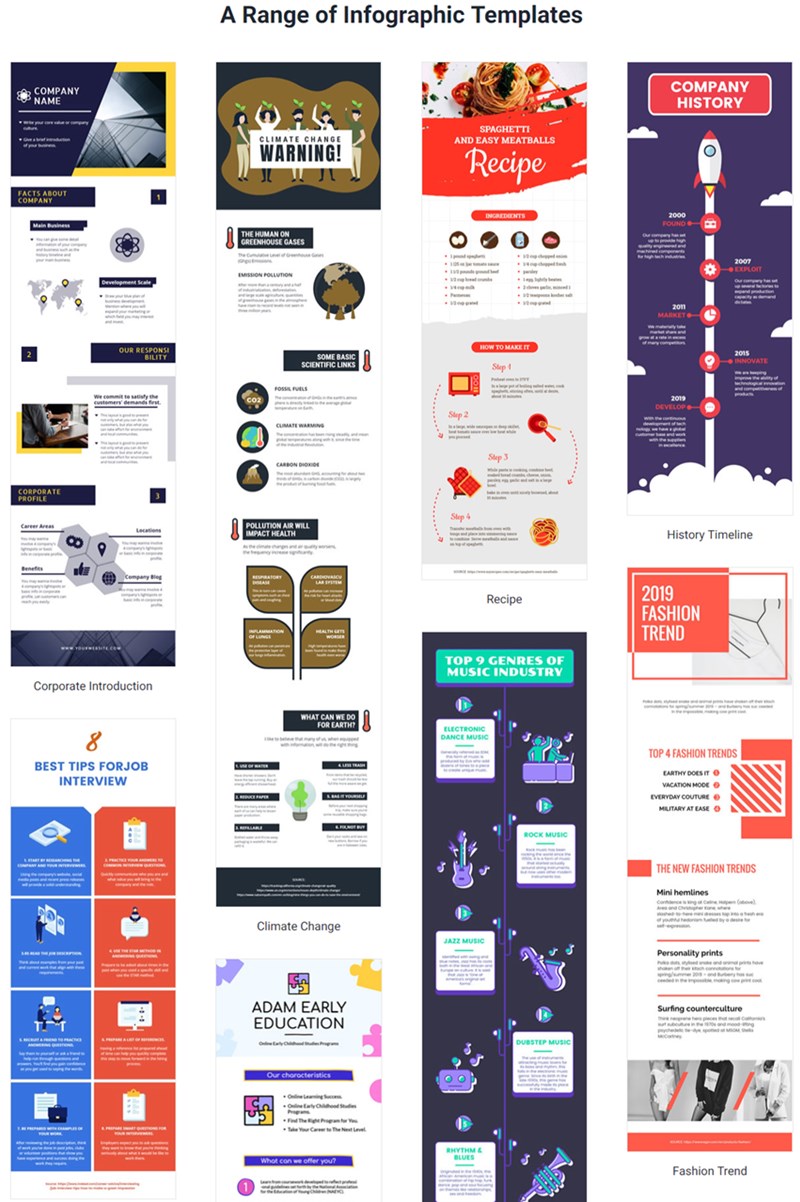 Image Board: A Range of Infographic Templates in DesignCap
You need to come up with a title that is catchy and descriptive for your infographic. You should make your reader get a sense of what the infographic about once they see it and engage them to want to know more about it.
Making use of a big, bold headline and specific subheader is a great idea, which can show the readers exactly what information they're going to get effectively:
Besides, using numbers in your title can make the headlines more compelling and specific, like the one below:
When you decided to use images in your infographic design, remember that the use of photography can be tricky.
First, make sure that the images you use should be consistent in their styles and lighting. So you need to pick some photos with similar lighting effects and styles just like the following one:
Second, using pictures in your infographic easily distracts from information because they always take up the majority of space in your design. But this problem can be solved just by using cropping like a circle or other frames.
Using contrast wisely in your infographic allows you to organize the data and information with a particular element more prominent than another. It can make the most important information stand out and guide your readers' attention.
Contrast using colors
A major design element to think about in your design is color. It can be used as a powerful communication tool.
Pick the right color will have a significant impact on your infographic design. Just try pairing complementary colors to make the most important information stand out.
Contrast using typography styles and sizes
The font is another major element you should think about in your design. If you have chosen poorly in font, it can ruin a great infographic.
How to use fonts wisely? The most important rule is to make a text contract with three different font styles: for the main header, subheader, and then the body text.
The heading is usually the biggest text on your infographics, followed by the subheading and then the body text. Let's see an example below:
You have to use those infographic design elements like borders, lines, circles, and squares effectively to group your content visually. Only in this way can you make the readers find it easier to interpret that content.
Usually, we use an outline or a shape to enclose relates information or data. As the infographic below, this graphic is easy for the readers to scan the data and information, because it uses this tactic to divide the design into multiple sections.
When you design your infographic, you need to establish a flow for your design, so that the readers can naturally go through one block of information to the next.
You can easily reach this effect by using numbers, images, and symbols to help reinforce the flow of your infographic, such as arrows.
It is crucial for you to make sure that your infographic design is flowing from the beginning to the end. Therefore, all design elements in your infographic need to be consistent.
For example, if you're using line art icons instead of those icons that are filled in, then you need to try to keep using the same style throughout the whole infographic.
Remember this basic rule when you use other elements in your design, like images, fonts, and colors. It will make your infographic looks more harmonious and will make it easier to read for your readers.
What does negative space mean? It refers to the blank space surrounding objects in your design. If there are enough negative space in your design, it will be too crowded and can overwhelm your readers, making it difficult to read the information.
So you need to create space around the objects in your design to make your readers breathing room to process the information in your infographic.
As the old saying goes: practice makes perfect! So does it in the infographic design. Creating a beautiful and compelling infographic is much easier than you think; it just needs you to take a basic understanding of infographic design tips, then practice, practice, and practice!
Final Words
Mastering the killer design tips is the first step in creating a compelling infographic; getting some inspirations from delicate infographic templates will help you get started much more relaxed.
Sign up for a free DesignCap account now and grab one infographic template that has the best layout to present your data and information with. Get it customized easily, published, and then make an impressive impact on your target audience with your perfect infographic design!