Summary: Having trouble coming up with new creative poster design ideas? Wondering how to make a perfect custom poster? Here in this blog, we've collected some creative poster ideas, templates, and design tips to help you out.
Posters have been one of the best choices for advertising everything from a new film to a buzzworthy product to a community event. A stunning poster can turn your business or event into a buzz.
But how to make a great poster design? Here in this blog, we're going to share some great poster ideas and design tips with delicate poster templates to help you create your own poster with great ease.
Creative Poster Design Ideas for Your Inspiration
Here we show you some great posters ideas to provide the inspirations for you to create your own poster.
# Minimalist Posters
Using a few impactful design elements to design a minimalist poster and show everything about your product, brand, and product in a simple way. You can easily control where the attention of your viewers will go with a minimalist design.
How to make your poster minimalist? That's pretty easy! You do not need to use a lot of design elements when you design your own poster; just go with some minimalist graphics, or make use of whitespace in your design.
# Typographic Posters
A typographic poster is a great idea when you have to present a lot of information in a poster, like event promotion, you need to show the date, time, location, and all other essential stuff.
If you need to deliver a lot of information to your audience with a poster, then you should focus much more on the typography.
TipIf you are going to create your own poster with a lot of components, you should arrange those elements with some blocks to keep your poster design organized and make it easier to scan the poster for important information!
# Graphic Posters
Sometimes, you can make your own poster impactful by keeping text to a minimum and focussing on the graphics.
Graphic posters can help you avoid overwhelming the audience with dense text. Besides, the audience can interpret the graphic in your design according to their own interest and understanding, which can be helpful for building intrigue and piquing interest.
# Photo-Centric Posters
Have you know that a picture is worth a thousand words. That's indeed true! You can use photographs to capture something that text, graphics, and illustrations can't: like human emotion or the grandness of nature.
# Colorful Posters
A colorful poster can make a bold statement for the event! Using a lot of colors wisely can draw people's attention at first sight.
We all know that color psychology is powerful - the different colors you choose for your poster design can deliver different information to the audience. So colorful posters can help you strengthen the messaging of your brand or the event.
# Vintage Posters
Have you notice that it seems like throwback style is everything now - from vintage clothes to retro decor. And in poster design, vintage style is also trendy.
If you want to make your own poster nostalgic, or your topic or subject has a vintage feel, the vintage poster must be your best choice. Just try using some throwback elements in your design.
# Use a Professional Logo in Your Poster Design
Design a fashion & beauty logo and use it in your cosmetics poster; Or, make a logo for art & entertaining when you are preparing an art & entertainment poster...These logos will help your poster look more professional, and level up the overall design.
Bouns Tips for Perfect Poster Design
Now, let's dive into some useful tips for making a perfect poster design:
>>Make it Easy to Read from a Distance
No doubt, exposing someone to an event is the top priority of a poster. So when you create your own poster, you should make the key information easy to read from a distance to draw people to the poster.
>>Amp Up the Contrast
High contrast can help you grab people's attention at one glance. Try to go bold with color and type options in your poster design. There are endless color combination choices and type options, and there is no right or wrong. You can really go crazy with beautiful colors and typography. Just experiment with different bold colors and fonts and see what works best with your design.
>>Include a Call to Action
The goal of a poster is to expose people to something, and you want the reader to take any action after they read your poster. Therefore, you should have a call to action on almost every poster that you create.
In the creative poster template below, it calls people to keep running and start a healthy journey:
>>Use a Color Overlay
You can turn a vivid or colorful image into a reserved background in seconds with a color overlay. Besides, a color overlay will make the text on your poster jump off the paper or screen. Let's see a poster template with a color layer:
>>Use Plenty of Space
Remember, exaggerates space between elements in your poster design can dramatically increase the visual impact and readability of your design.
Here are some tips on how to make extra space in your poster design:
Pro Tips

Make extra space between individual letters.
Make extra space between lines of text.
Make extra space between elements of different types, such as images and text.
Make extra space around the essential element in the design.
Part 2 Steps to Make Your Own Poster Design
Get inspired? Want to craft your own poster design right now? Just go to DesignCap poster maker and Get Started Now:
Step 1 Choose the Poster from popular designs or under the Marketing category.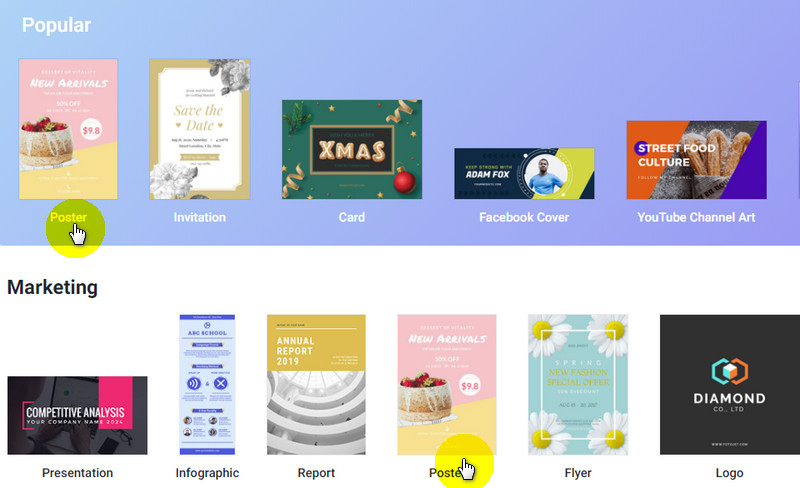 Image Board: Make Your Own Poster: Step 1
Step 2 Here, you can pick one template you like to customize or start with a design by yourself.
If you're going to start with a template, here you can find lots of stunning templates, just pick the one you like, and then you can begin customizing freely.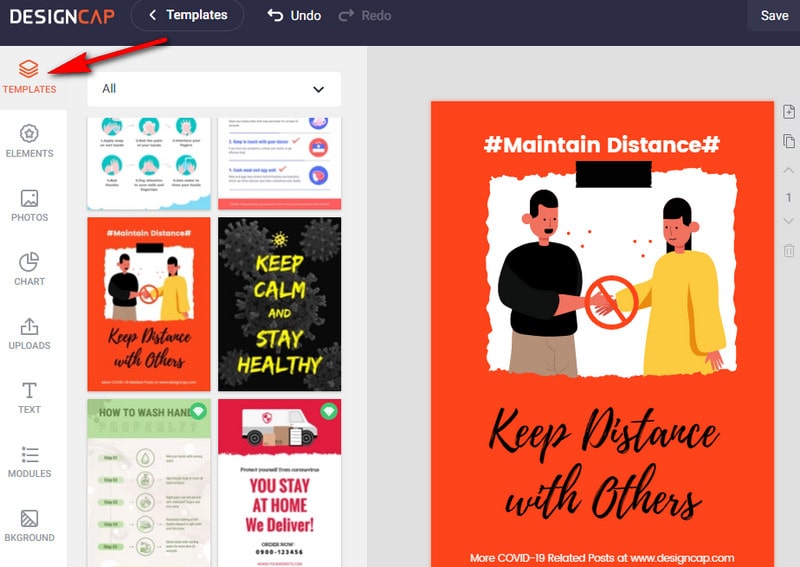 Image Board: Make Your Own Poster: Step 2.1
Want to start your poster design by yourself? You can also upload your own pictures as the background.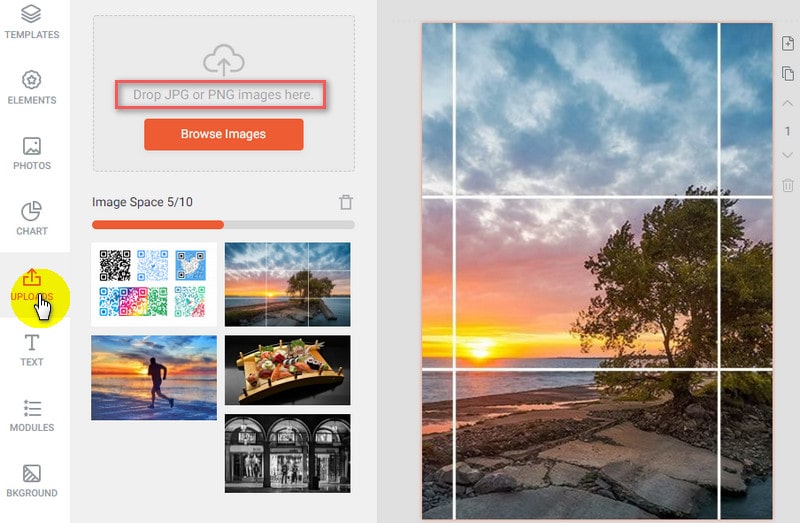 Image Board: Make Your Own Poster: Step 2.2
Pro TipYou can also add a QR code to your poster with the upload feature here. No QR code for you yet? Don't worry! You can use Rebrandly URL Shortener to create QR codes, and that's a really good idea/tip for the perfect poster. Or even better, use a customizable QR code generator to create QR codes in bulk and track user interactions.
Step 3 Add or edit graphics, photos, and text to design your own poster.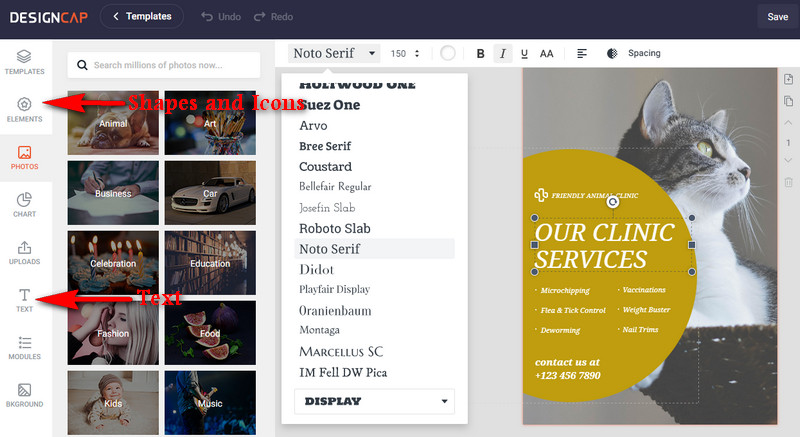 Image Board: Make Your Own Poster: Step 3
Step 4 After making sure everything is perfect, you can and download your design or print it.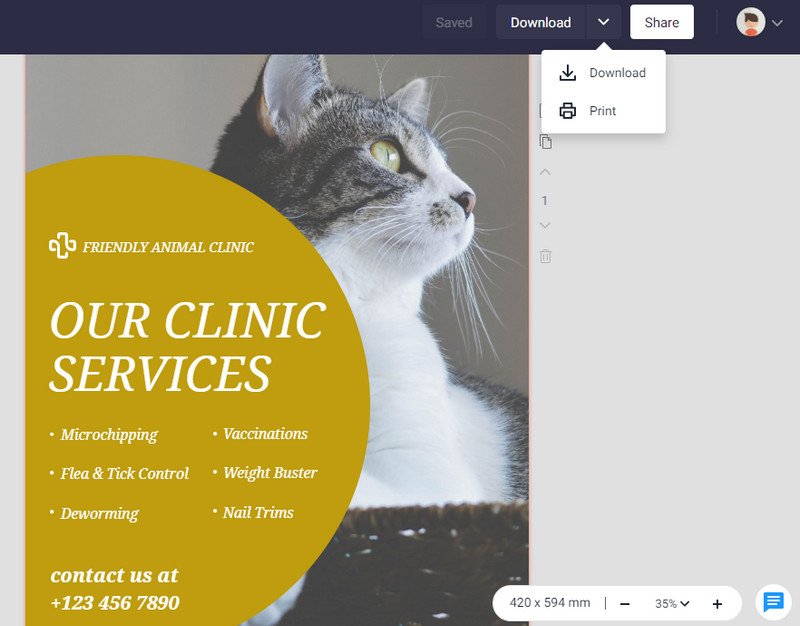 Image Board: Make Your Own Poster: Step 4
Final Words
You made it to the end of our collection of creative poster ideas and killer design tips! Get inspired now? It's your turn to create your own poster! Just go to the DesignCap poster maker and turn your great idea into a masterpiece!