From Google to Microsoft to Apple and Amazon, companies around the globe have asked their employees to work remotely as a precaution against the novel coronavirus. As the coronavirus continues to spread, there are more company employers considering implementing a work from home policy.
Working from home has become commonplace and necessary amid the spread of Covid-19. Remote work can keep business running while help follows social distancing guidelines and curb the spread of germs. But moving work from the office environment to telecommuting can be a big challenge for those who have not telecommuted before. How do you stay focused and productive? How do you keep your work life separate from your home life?
Then you've came to the right place, here we'll show you the right way to work from home effectively in the time of coronavirus.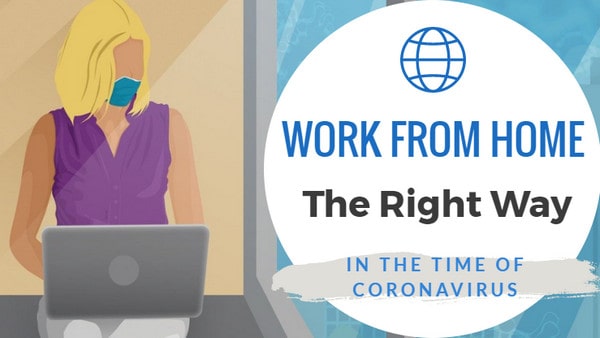 Image Board: Work from Home the Right Way in the Time of Coronavirus
Table of Contents:
Here we show you some remote work practices to help you start your "work from home" journey happily and effectively.
Remote Work Best Practice 1: Build a Permanent Work Space
Instead of lying in bed with a laptop, try something more deliberate to build a comfortable workspace. It is important for you to find a dedicated workspace where you can focus on your work with minimal distractions when you start your "work from home" journey.
Remote Work Best Practice 2: Maintain a Regular Schedule
Maintain a regular schedule to structure your day as you would in the office when you work from home. A schedule can help keep you focused and productive.
If you're struggling to implement your work schedule as a telecommuter, try a daily work report to supervise and urge you to stay on schedule. DesignCap makes this easy.
Remote Work Best Practice 3: Stay Connected
Coronavirus or not, communication is essential in any working relationship. You need to communicate with your boss and knowing exactly what's expected of you. Besides, working from home can get pretty lonely, which can lead to weakened productivity and motivation, so it is essential to keep in contact with your co-workers via phone, email, messaging, or video conference.
Remote Work Best Practice 4: Deal with Distractions Well
Anyone working from home inevitably gets distracted, and distraction is one of the big challenges for remote workers. Although it is human to get distracted, you need to be wary of how much you let yourself get distracted.
Remote Work Best Practice 5: Keep Yourself Motivated
The best way to keep yourself motivated is to set goals and beat them. Setting some aspirational goals for how much work you hope to get done in a day and keeping records of what you do with a daily work report.
✓ Best Online Tool for Graphic Design, Coronavirus or Not
Are you a graphic designer struggling to find the right telecommuting tool in the age of coronavirus?
- Coronavirus or not, DesignCap must be your best choice to start a design. It can always speed up your creative process to make striking graphic designs, including posters, flyers, invitation, and more, for your business, event, social media, etc. Besides, DesignCap allows you to share your design to Facebook, Twitter, or Tumblr, or you can copy the link and send it to your boss or clients directly.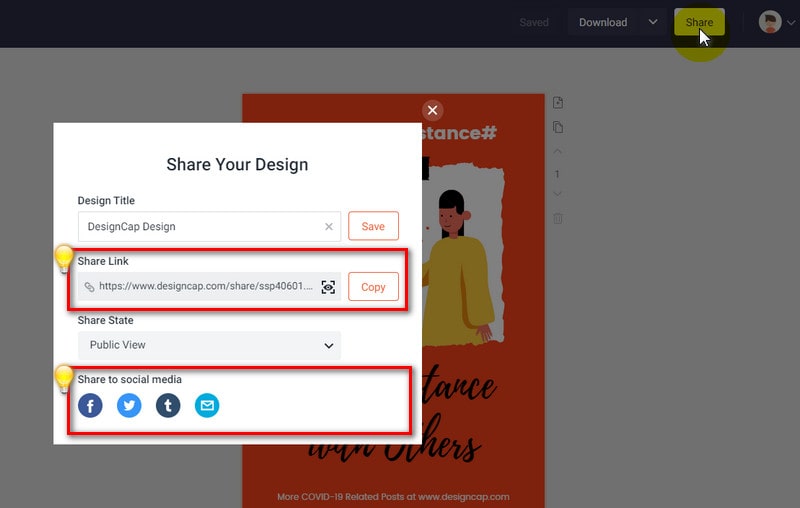 Image Board: Share Your Designs
✓ Best Online Tool for Work Report, Coronavirus or Not
Be asked to make a report for your work when working from home in the time of coronavirus?
- Turn to DesignCap now! With its wide range of report templates, from daily work reports to work summary reports to weekly work reports, everyone can create a professional one with great ease and share it with your boss or co-workers in minutes.
Let me show you some stunning work report templates; just pick the one you like and start customizing freely!
Work Report Template 1: Daily Report
Work Report Template 2: Daily Work Report
Work Report Template 3: Project Status Report
Work Report Template 4: Weekly Work Report
Work Report Template 5: Weekly Work Status Report
✓ Keep You Informed of Coronavirus with Stunning Designs
May you an employer looking for an effective way to get you remote workers informed of coronavirus?
- DesignCap also can help you out! Turn to its coronavirus related designs now! Easily customize your own design and share it with others in a few clicks.
Coronavirus Infographic Template: Outbreak Timeline
Coronavirus Infographic Template: Tips
Coronavirus Infographic Template: Prevention
More useful features and stunning designs are waiting for you to explore! Try DesignCap and see how it can help you start your remote work effectively and happily.