The coronavirus pandemic changed the business, the job market, and the whole economy overnight. The once hottest sectors like tourism, service, and energy are in hard-hit. Companies in these sectors are announcing heavy job-cuts. Yet, companies in medical, retail are showing growing demands for intelligent brains.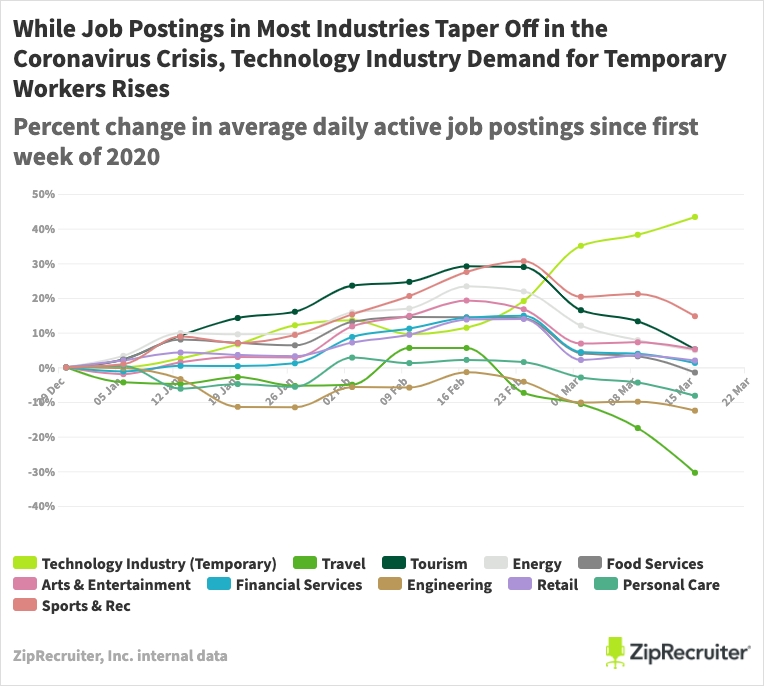 Image Credit: ziprecruiter.com
If you have lost your job due to coronavirus and tried to seek new job opportunities, to tell the truth, the competition will be furious. To leg up on the cruel job-hunting field, you need to grab the attention of HR in the right field with a convincing RESUME!
The following parts will discuss which fields are the best to try, and provide you elaborate resume templates to end the jobless situation. Check it out.
Which Field Should I Try?
According to ziprecruiter, all fields are undergoing significantly drop in daily active job except for the technology industry. The travel industry witnessed the most significant decline. arts & entertainment, retail, personal care are barely influenced. The top 5 recommended work fields are Technology, Medical, Retail, Engineer, Arts & Entertainment.
Which Company Should I Try?
According to CNN news, the following companies are in huge demand for new employees.
* CVS the retail pharmacy chain said they need to fill a total of 50,000 full-time, part-time and temporary positions nationwide.
* Walmart The coronavirus keeps people stay at home. As a result, the grocer store and online retailer giant plans to hire 150,000 works to feed up its own supply chain.
* PepsiCo Pepsi said that it wants to hire 6,000 staff in the coming months to provide food and beverages to people especially in the frontline if coronavirus pandemic.
*GE Healthcare GE healthcare adds additional manufacturing employees to build medical ventilators which have been in high demand during the coronavirus pandemic.
Resume Templates During Coronavirus Time
Resume Template 1
Resume Template 2
Resume Template 3
Bonus Tip: Resume Creation Content Tips
Good resume content requires careful planning. Here are a few tricks to write a good resume.
* Keep It Short
Normally, you only need one page to display your information. You can add one extra page, but don't make your resume more than two pages long. Recruiters only have about 6 seconds to scan your resume. HR may fail to catch important information from a resume that is too long.
* Organize Your Content Well
Don't make recruiters hunt for information. As a job seeker, you ought to learn how to display your important information properly.
The average person reads in a pattern that resembles the letter "F", which means a person is more likely to remember contents from the upper left corner. That's to say, you need to put the most important info at top.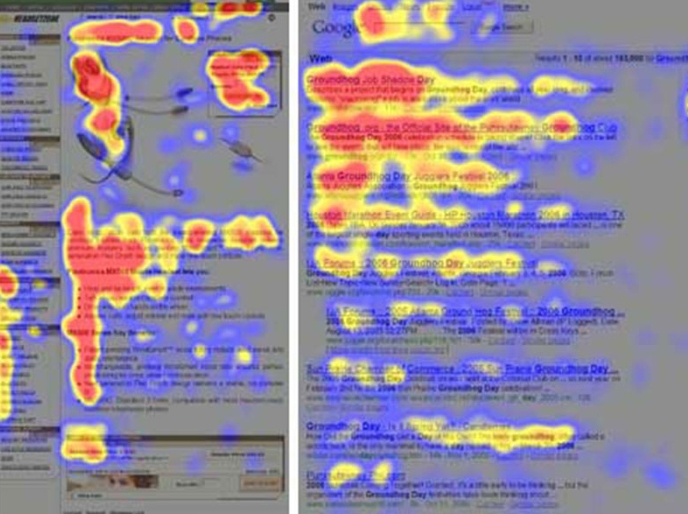 Image Credit: Resume in Coronavirus Time - Organize Content
In the Google search page, the article title are usually broken up in small phrases and the key points are in bold text. We encourage resume creators to use bold to emphasize on important keywords. Use more phrases instead of sentences.
* Winning Content
A resume should contain the following information.
Name and contact details
Summary statement
Education background
Employment history
Skills
Fancy words won't win you the job. Recruiter puts more emphasize on your experience and achievements to see whether you meet their requirements. Thus, we suggest you referring to your dream job's requirements and see what you can do with your resume content.
Most recruiters require candidates to submit PDF resumes. Make sure your resume's graphics, texts are all proofed. If you are working on a Word file, keep in mind that info placed in header and footer can be read properly.
The Bottom Line
That's all for creating a resume to end jobless situation in coronavirus time. Now, you must have gained ideas for the resume. Edit the resume template above. Share this post if you find it helpful.