Summary: This is a remote job list for coronavirus period. If you are jobless due to coronavirus depression, then you will land a new gig here.
U.S. report says 3,283,000 Americans have lost their jobs due to the wild spreading coronavirus. In the worldwide scope, the number of unemployed is a much larger digit. During the difficult time, people need a job to get through and make ends meet.
Losing a job is a sad thing. But if you find a new remote job and work from home, then you can change your working condition and keep social distance as much as you can. For those who ever think they've stepped into an unpromising occupation, quarantine is perhaps a good time to figure out what's the best shot, and rethink a brand new career longing for.
With the advantages of flexible arrangements, remote jobs are recently on the rise in the job market. Getting a remote job ensures that you can manage time for work & home errands.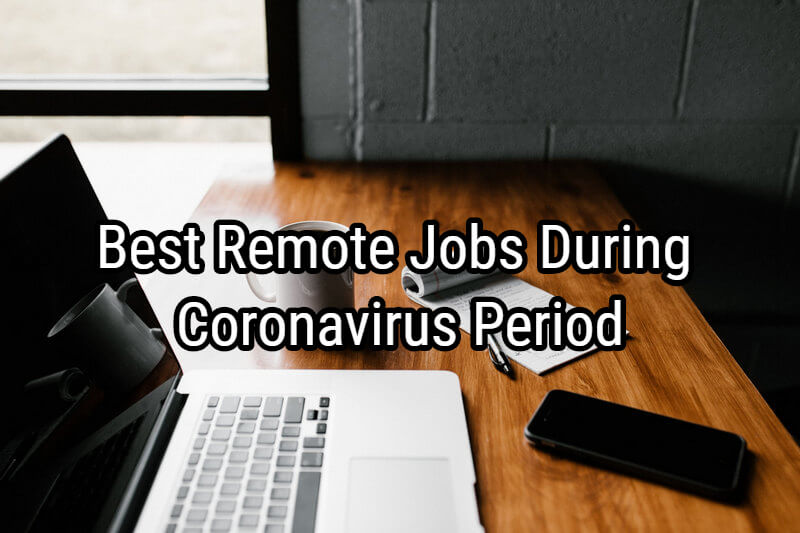 Image: Work from home.
Part 1 - Top Remote Jobs for Coronavirus Quarantine
Simply sharing a long list of worldwide top remote jobs won't be very effective & useful for job seekers, because people have different skills and backgrounds. So, we decide to dig deeper and personalize the remote job list for different applicants.
#1.Remote Customer Service Jobs
Call center representatives or amazon customer services are perfect remote jobs for low skilled people. Such a remote job usually requires candidates to master a high school or equivalent diploma.
To be a remote Amazon customer service specialist, you need to have patience, focus on details, and enjoy helping clients to solve their problems.
#2.Remote Data Entry Specialists
With a PC and a high school diploma or above, anyone can be a candidate for remote data entry specialist.
Remote data entry specialist is responsible for inputting necessary information into spreadsheets or other specific documents with high accuracy and attention to detail.
The tasks of remote data entry specialist include sorting critical data & information from different sources and putting them into a designated document.
Over 81.3% of remote data entry jobs need the candidate to operate MS office. A small portion of data entry jobs requires the candidate to convert excel documents to JSON files. You can find requirement details in job wanted description.
#3.Game Testers (Remote)
Some qualified companies will demand applicants to own a college diploma or above and have high development skills with years of experience to be qualified. While, the majority of small game companies merely want candidates to test their games like an average player, to play games, record game errors, and send your feedbacks & user experiences to game product manager.
Remote game tester is a dreamy position for game enthusiasts: They get paid for playing digital games!
1.2.Remote Jobs for Mediate Skilled People
#4.Content Contributor/Writer (Remote)
It's more like a freelance job. Dozens of companies need remote copyright writers with related or similar experiences. To be a remote content contributor, you are required to be fluent in English, dig deep in contents, and write properly. Mastering some basic SEO skills be a big plus to apply for remote content writer.
#5.Remote Graphic Designer
If you apply for the position of graphic designer, you'll need some educational background, such as, art college diploma, graphic design training, and work experiences in related occupations.
Some companies may post higher requirements that require candidates to have the ability to combine art and technology in design.
#6.Teacher (Remote)
Online teacher is a new career these years. Especially for the difficult time during coronavirus, students are out of schools, and more online teachers are wanted for various skills and courses.
To be an online teacher teaching skills, you won't need a diploma but have expertise in the teaching subject. However, online course teachers for K12 or kindergarten are required to have professional teaching experiences.
1.3.Remote Jobs for High Skilled People
#7.User Experience Designer/Freelance UX Designer (Remote)
Different companies have different requirements for remote UX positions. In general, a UX designer must have the ability to work across web usability, user experience, and visual design disciplines for development projects. The tasks move from project to project.
#8.Web & App Developer (Remote)
A small portion of companies outsources their developing projects to full-stack developers. But more remote developers are wanted as a member of the development project. Therefore candidates must work with the team remotely.
#9.Remote Business Consultant
The job is responsible for maintaining relationships and communicating with different clients and partners efficiently. The candidate must collect, organize, and manage critical marketing information.
Advanced position requires the candidate to have the ability to analyze marketing data and make a forecast.
#10.Legal Assistant (Remote)
Serving as a remote legal assistant, you must have 2 years or more working experiences as your qualification. Remote legal assistant usually involves preparing/reviewing legal documents, producing correct materials and presenting accurate information. The candidate must answer inquiries and focus on details.
#11.Telemedicine Nurse Practitioner (Remote)
The demand for nurses and doctors surges in the outbreaks of coronavirus. Telemedicine nursing is an effective way to provide remote health care for isolated people and mild symptom people.
To apply for remote telemedicine nurse practitioner, you must get certified by the Board of Nursing. Demands vary, and you will want to check details before applying for it.
Part 2 - Let Free DesignCap Ease Your Remote Working
To improve efficiency in remote works, you can utilize some free telecommuting software to assist your communication and work. One of the top telecommuting software is DesignCap, which is super easy to use for graphic design, i.e., making beautiful presentations, illustrating various infographics, etc.
Remote customer service specialists and remote content writers can utilize DesignCap to make visual tutorials for clients effortlessly. Here are some how-to and tip templates to illustrate steps & guidelines:


For remote UX designers or web developers, they will find free templates of table and report much helpful to illustrate market research or technical report.